Studio Rental Las Vegas
Production Studio Rental
Our fully-equipped chromakey studio and all its luxurious amenities set our production company apart from all others in Las Vegas.
The studio measures 28-feet by 55-feet and has a hard seamless cyc and a full-length, three-wall black panel curtain. The studio walls are typically painted chromakey green, but can be painted any other color upon request. We also have a variety of other background options available to be utilized within the studio space. The studio comes with a professional lighting grid with 25 fixtures, all easily controlled by a programmable lighting board. Additional lighting and grip is available as needed. The studio's large elephant doors allow for easy loading and unloading through the back parking lot, and are wide enough to bring a car through.
Adjacent to the studio is a comfortable green room and a fully-functional make-up/wardrobe room. Also next to the studio is a kitchen that seats 16 and comes with a fridge full of waters and sodas, a gourmet coffee/cappuccino machine, and freshly baked cookies.
Studio rental fees are competitively priced and include all power and air conditioning. Our studio is the facility of choice because of its unmatched quality and comfort, for many network/cable TV programs, celebrities, politicians, and corporate executives when they are shooting in the Las Vegas area.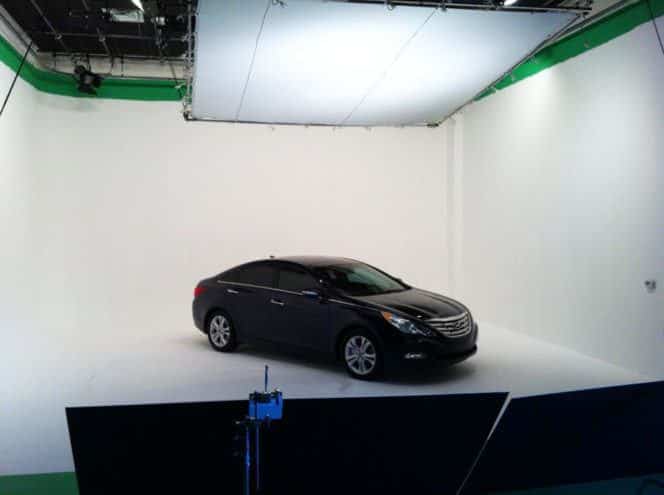 About Levy Production Group
The Levy Production Group staff is made up of award-winners in every area of production and post-production, including acclaimed producers, writers, directors, videographers, editors and animators.
Our 14,000 square-foot facility is conveniently located next to the Las Vegas Strip and includes a large insert-chromakey studio, a voice-over booth, and six luxurious editing suites for video editing, audio editing, motion graphics, animation and visual FX. Having pre-production, production, and post-production resources all under one roof ensures fluidity in our process and consistency in the execution of our projects.
From our award-winning creative team to our state-of-the-art facility, and our commitment to excellence over 35 years, Levy Production Group has distinguished itself as the clear leader for video production in Las Vegas.
Frequently Asked Questions
Does your studio have a hair and makeup room?
Yes! You can enjoy the full movie-star treatment here in our luxurious makeup room adjacent to our studio.
How large is your studio?
Our fully equipped chromakey studio measures 28-feet by 55-feet with a seamless cyc and programmable lighting grid. It is part of our 14,000 square foot facility which includes pre-production, production, and post-production resources all under one roof.
Info
Phone
Fax
(702) 597-0741
Address
5905 South Decatur Boulevard #1 Las Vegas, NV 89118
Email
Hours
Monday-Friday 8am - 6pm

All services available 24/7, 365 days a year
Looking for Online Marketing?